The forums of the Board
Hello members,
Welcome on our first contest! This is a forum-contest: It means that we will make a review of your forums and we will share the best forums!
You will submit your forum in this topic and if it is an Excellent forum you can win!
Make your forum the best and you will win special prices
(Will be announced later)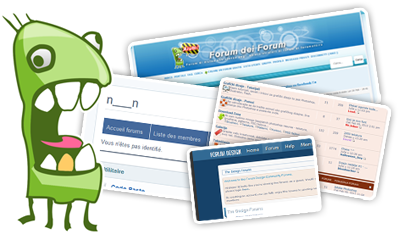 Normative of PROforums
Your forum must respect the ToS (Terms of Service)


If not it means that your forum is not legal and we will report it to Admins (Not always and not immediatly)

You must be the founder or the top-administrator


Members, moderators and helpers cannot join forums in this topi (But you can promote them)

The forum must be active


Please, report to us if your forum has been closed

You need almost 20 members and 200 posts


Only active and cool forums will be accepted
Join in the contest
Code:

[b]Forum title [color=#00a5cd](0/10)[/color] :[/b] Write
[b]Forum address [color=#00a5cd](0/10)[/color] :[/b] Write
[b]Forum description: [color=#00a5cd](0/10)[/color] [/b] Write
Note: Please don't edit this part: (0/10)

Friendly,
The

Forum of Codes TEAM


Last edited by Niko on Mon Apr 09, 2012 2:31 pm; edited 2 times in total